knapsack backpack mist duster and duster machine mist blower mistblower sprayer 20L 2 gear and 1 gear mist blow
Categories:

Agricultural Power Machinery
Comments:
knapsack backpack mist duster and duster machine mist blower mistblower sprayer 20L 2 gear and 1 gear mist blow
knapsack backpack mist duster and duster machine mist blower mistblower sprayer 20L 2 gear and 1 gear mist blow
Our mist blowers allow you to spray with safety in mind and you may use less chemical. Ideal for greenhouse, nursery-container stock, right-of-way, livestock spraying, pastures and range land, orchards, small vineyards, vegetables, and premise spraying.
Spray mosquitoes (West Nile-Like Virus), flies, grasshoppers & ticks. Spray noxious weeds, broadleaf and brush too!
The self-contained 2-cycle, 41.5cc, 2.0-3.5HP engine driven mist blower unit has either a 14-25liter poly tank.
our mist blowers allow you to safely spray fungicide, insecticide, and herbicide. Maximum spraying range - 38 feet horizontal, 31 feet vertical.
The Backpack Mist Blower will provide you with greater flexibility and more uniform coverage at a much lower cost than you would incur with traditional application methods.
Livestock Insect Control
Beef, Dairy, Cow/Calf, Poultry, Swine, Bison, Horses
Pasture/Range Control
Noxious Weeds and Broadleaf Control
Spray Under Trees - Roadside Ditches - Fence Rows - Creek Beds - Lagoons - Levees
Spray steep, rocky, hard to reach areas that you can't walk, ride or drive
Truck/Garden Produce
Sweet Corn, Tomatoes, Orchards, Vineyards, Nut Tree Spraying
Great for Public Area Applications
Campgrounds, Parks, Golf Courses, Hunting Lodges, and other Municipal Uses of Insect Control
Barrier Treatment
Mosquitoes, Grasshoppers, Gnats, Biting Insects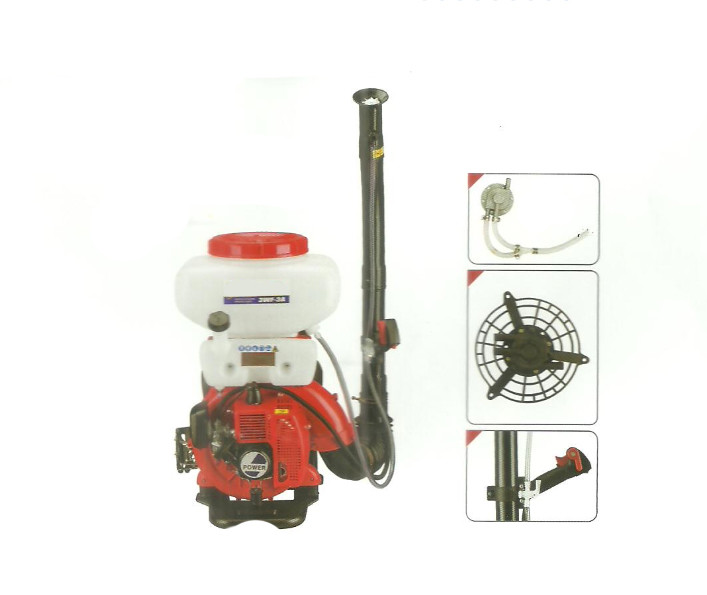 Specifications:
Mist blower

Indicators

Dimensions

50*42*68 cm

NW/GW(kg)

10.5/12.5

Container Capacity(L)

20l

Spray amount

liquid (kg/min)

≥1.7

Powder(kg/min)

≥2

Horizontal range(m)

≥9

Average diameter of the droplet(um)

≤120

Matched power

1E40F

Fuel consumption rate(g/kw.h)

<530

Fuel mixing ratio

25—30:1

Power/rotating speed(kw/r/min)

1.18/5000

Ignition system

Electronic ignition

Starting system

Stay starting or recoil starting

Stop mode

Accelerator complete shut-off

Productivity (mu/hour)

10-35(Dusting)

6-9(Spray)

Staff

4(Dusting) 3(Spray)

Horizontal range/Vertical range

(Spray) ≥9 / ≥7

(Dusting) ≥25 / ≥15

(Calm wind)

Oil Tank Capacity(L)

2.5

Wind speed of air outlet (m/s)

60(Dusting)

75(Spray)

Discharge rate (kg/min)

≥3(Dusting)

≥1.7 (Spray)
Please send your message to us
* We will reply your inquiry to this Email as soon as we see it(All fields are required.)

Oliver