bottles blowing machine, blow molding machine for pet bottle, blowing machine, automatic Blowing molding machine,pp pe blowing machine,pet bottle blowing machine,tank barrels blow molding machine
Comments:
bottles blowing machine, blow molding machine for pet bottle, pp pe blowing machine,pet bottle blowing machine,
PET BOTTLE BLOWING MACHINE :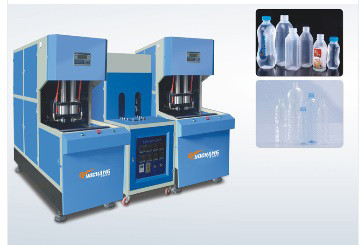 semi-automatic stretch blow-molding machine is suitable for producing different shapes of bottles from PET preforms.
A. Settings:
a).PLC ------------SIEMENS(GERMANY)
b).Valve for action------------SMC(KOREA)
c).Valve for blowing-----------FESTO(GERMANY)
d).Cylinder(stretch and clamping)-------------FESTO(GERMANY)
e).Controller of preform transfer---------------Servo motor National(JAPAN)

B. Machine Features:
B.1. Produce bottles from 0.1L (2 cavity) to 6L(1 cavities);
B.2. Output capacity up to 1000BPH for 0.1L using two-cavity blow mold;
B.3. Advanced PLC control system with a use-friendly panel and time-control precision of PLC up to 0.01second;
B.4. Equipped with special designed air storage unit;
B.5. Infrared preform heater;
B.6. Heating lamps are adjustable in directions to suit various performs;
B.7. Independent temperature control system for different heating lamps to get ideal preform heating results;
B.8. Operated only by one person without special training;
B.9. Simple installation & startup adjustment;
B.10. Waste rate of finished articles is less than 0.2%.
C. Technical parameter:
ITEMS

UNIT

YC-2LA/B

YC-3LA/B

YC-5LA/B

Max.Volume of Products

L

2 (2-cavity.), 3 (1-cavity.)

3 (2-cavity.), 6 (1-cavity.)

5 (2-cavity.), 10 (1-cavity.)

Theoretical Output

PCS/HR

900BPH: 1 blower

1500BPH:2 blower

700BPH: 1 blower

1300BPH:2 blower

400BPH: 1 blower

800BPH:2 blower

Neck Diameter

MM

10-80

50-150

50-150

Max.Container Diameter

MM

100

180

200

Max.Container Height

MM

200

330

330

Max.Mold Thickness

MM

210

230

230

Mold Opening Stroke

MM

160

200

200

Working Pressure

Mpa

1.0

1.0

1.0

Blowing Pressure

Mpa

3.0

3.0

3.0

Heater Power

KW

8

10

14

Power of Main Blower

KW

0.2

0.3

0.4

Measurement of Main Machine

M

1.6x0.6x1.6

1.4x0.6x1.6

1.7x0.6x1.7

Weight of Main machine

KG

500

500

600

Measurement of Oven

M

1.3x0.6x1.1

1.7x0.6x1.6

2.1x0.8x1.7

Weight of Oven

KG

250

300

350
PP PE TANK AND BARREL BLOWING MACHINE: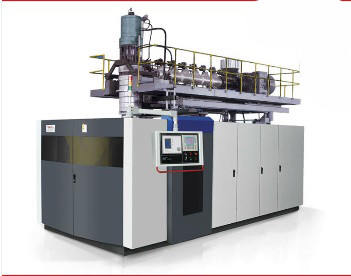 Automatic blowing molding machine.,which can be used for producing drums, tool boxes and hollow parts of all kinds. Materials of PE, PP, and ABS can be used. Maximum capacity of accumulator head can be 12L while volume of products can be 160L. Its control system adopts closed loop control imported from Europe and hydraulic system is pressure-flow double proportional control equipped with variable plunger pump to ensure fast and smooth operation of the machine and energy consumption of the hydraulic system can be reduced by 30% or above, saving considerable electricity.
The Machine Can Produce all kinds of PE Container, such as PE Bottles, PE Barrels, PE Kettles etc.
Setting:
Clamping----------Double station+Hight-precision guide+large arm cylinder axle
Extrusion system--Hard gear surface reducer+Japan inverter
Die system--------Central-incoming extrusion die with special steel
Hydraulic system--Japan hydraulic valve seal and proportional control
Control system----Japan PLC+Imported HMI+PLC automatic
| | | | | | |
| --- | --- | --- | --- | --- | --- |
| Specification | | DHB80 | DHB90 | DHB100 | DHB110 |
| Material | | PE / PP | PE / PP | PE / PP | PE / PP |
| Max.container capacity | L | 25 | 50 | 120 | 160 |
| Number of die | set | 1 | 1 | 1 | 1 |
| Output | pcs/hr | 500 | 400 | 360 | 300 |
| Machine Dimension | m | 4.2×2.3×3.6 | 4.6×2.5×3.8 | 5.8×2.5×4.6 | 6.9×2.9×4.8 |
| Total weight | ton | 12 | 13.8 | 18 | 20 |
| Accumulator head | | DHB80 | DHB90 | DHB100 | DHB110 |
| Accumulator capacity | L | 5 | 6.6 | 12 | 18 |
| Power of die heating | KW | 18 | 22 | 26 | 38 |
| Number of heating zone | zone | 4 | 4 | 4 | 5 |
| Die diameter | mm | 300 | 350 | 450 | 510 |
| Injection pressure | Mpa | 8 | 8 | 8 | 8 |
| Max.injection speed | Kg/sec | 1.5 | 1.5 | 1.5 | 1.5 |
| Clamping Unit | | DHB80 | DHB90 | DHB100 | DHB110 |
| Clamping force | KN | 210 | 350 | 500 | 720 |
| platen opening stroke | mm | 250-700 | 400-1000 | 500-1400 | 600-1400 |
| platen size | mm | 740×600 | 880×780 | 1020×1060 | 1100×120 |
| Max mould size | mm | 560×630 | 700×960 | 800×1260 | 900×1400 |
| Mould thickness | mm | 250-350 | 455-510 | 360-700 | 450-750 |
| Extruder Unit | | DHB80 | DHB90 | DHB100 | DHB110 |
| Screw diameter | mm | 80 | 90 | 100 | 120 |
| Screw L/D ratio | L/D | 25:1 | 30:1 | 30:1 | 30:1 |
| Extruding Volume | Kg/hr | 100-120 | 120-200 | 180-270 | 200-320 |
| Screw rotation rate | r/min | 10-86 | 10-86 | 10-86 | 10-86 |
| Extruder heating power | KW | 20.2 | 21.6 | 26 | 32 |
| Extruder driving power | KW | 30 | 37 | 45 | 45 |
| Power consumption | | DHB80 | DHB90 | DHB100 | DHB110 |
| Driving power | KW | 52 | 76 | 89 | 130 |
| Heating power | KW | 36 | 44 | 60 | 78 |
Please send your message to us
* We will reply your inquiry to this Email as soon as we see it(All fields are required.)

Oliver